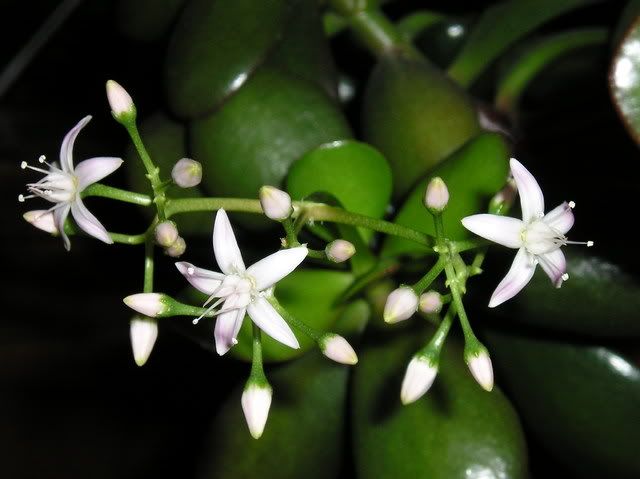 Finally she flowers on X-Mas Day, best present I ever had. More pictures at the Forum.
FACTS:
Jade Plant is appraised at $350kUSD
Location: Seattle, WA
Room temperature: 50-60F
Age:15yrs old
Height: 4'11"
Width" 5' 6"
Trunk Size: 15 "
Pot size:18 X 21
Leaf size: 2-3"
Care: Water once a week in Summer and once every 2 weeks in Winter. Use good clean fertilizer .
Lots of TLC….and lots of good loving talking.
Use it as my Christmas tree
Flowering: Oct 25th, 2008!! Whopeeee
Click here to see more pictures of Jade Plant.
Join the Forum—to upload your garden photos,view more photos and talk about gardening.
NurseryListing.com– find a nursery near you.
The jade is so big that there is no way she can be moved out of the house. She goes with the house-she is part of the house. A beautiful living breathing human being in the living room. Call me crazy all you want and yes I do talk to her all the time.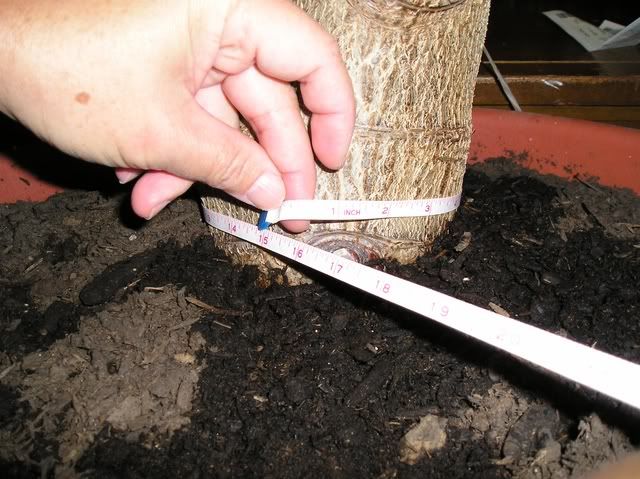 The last time I changed the soil was in 2007 and the soil I used is the one I got from Home Depot, nothing special soil—just the clean good soil.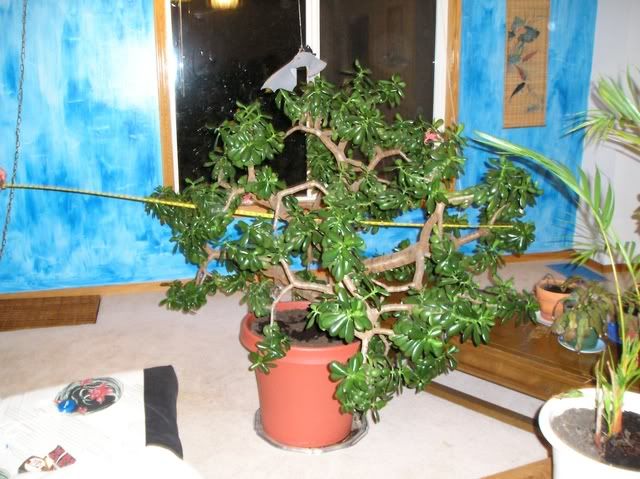 As you can see from the pictures, I have to put the long table against the pot to prevent the pot from tipping over. She has to be transferred to a bigger, newer, and a more stable pot with wheels. Don't ask me how I am going to do it, maybe a couple of Hulks will help me out.
During Summers, the leaves grow like crazy and buds start shooting up. I have to break the buds off. Water once a week.
During Winters, water once every 2 weeks.
No special fertilizers needed, just good old TLC.
I have given some of the shoots to my friends and all of them are doing very well.
Anyway, I think this is the largest jade plant in the world, if not, please send me your jade plant(s) pictures. You can post your pictures at Forum .
I always love Jade plants as they bring the good ying and yang, peaceful harmony to the house. See that lottery ticket at the jade flower……my time has come for the big one $$$.
I have a couple of jade plants of different varieties, the big leaf, the climbing one, the long finger leave, the spiny leaf and the small thin one.
There is one jade plant with the pink flower and it was taken at my Aunt's house in Melaka.
Yes, I do have a big garden with lots of fruit tress and a big vegetable garden. I have Asian pear trees, regular pear tree Italian prunes, fig, apples, Rainer cherry trees, Apricot, Japanese persimmon, and who knows what. Also included are blueberry, raspberry, and strawberry, I grow lots of green beans, Chinese pea pods, Chinese spinach, zucchini, char, spinach, asparagus and more than I can remember.
I buy most of the seeds at the 99cent store , 10 packets at a dollar. How can you beat that!!!
Anyway, if you have any good garden pictures, please post at the forum and share them with us.
Regards,
Chris
If you have any questions about growing jade, shoot me an email. I am the Jade Master . Check out my other websites: www.GoodKarmaToYou.com and my funky site: www.BullShitWebsites.com
I do love growing grapes but cannot afford to own a winery.